Secure Medical Telemedicine Strategic Partnerships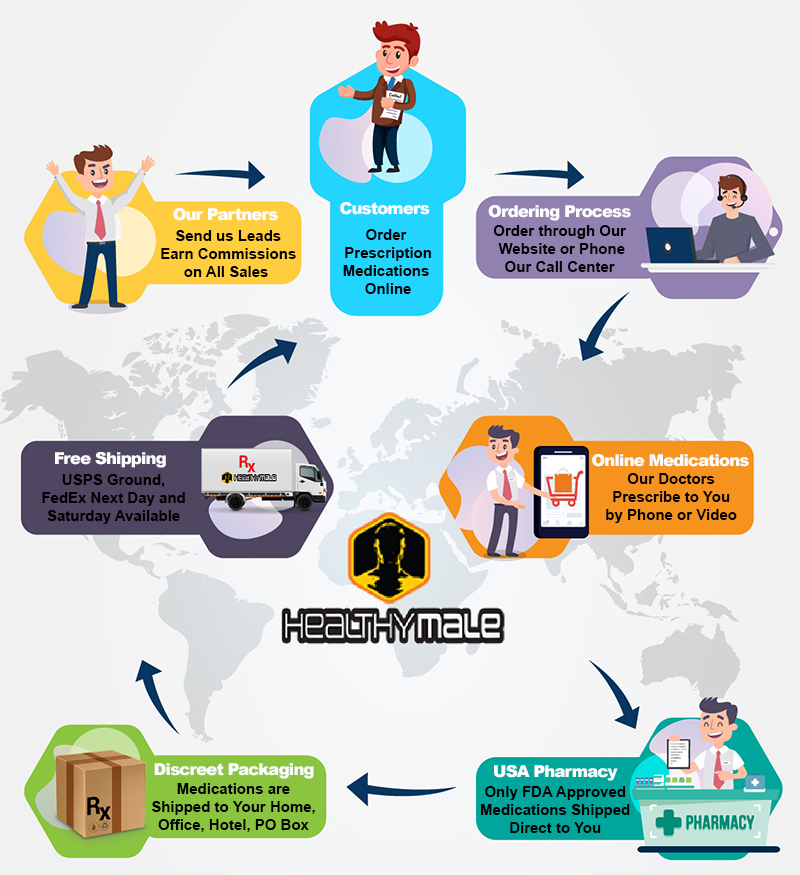 Our Partners:
Each of our partners benefits by using our service to promote their products. From web-design, to API-integration and IT support. We do it all. Each partner is carefully chosen to help promote mutual success. You will be provided with metrics analysis tools and support to help watch revenue grow and determine overall success. We handle any and all concerns for the client, and will help to apply your products to our process to augment our companies together.
Prospective Customer:
This is the first step. Our outstanding marketing team develops new and innovative ways to reach out to potential clients. Clients can call in, email, or go online at one of our websites to reach us. Each client is assigned a specific CSR to handle any refills, new orders, questions and concerns, or customer service requests.
CSR:
Each Customer Service Representative is trained from the ground up to be professional, courteous, and informative. They assume control in its entirety over each and every client that reaches out, guiding them through the ordering and reordering process from start to finish. Every new order is followed up with the contact information for each representative to help forge an ongoing client-rep relationship.
Medical Team:
We have a comprehensive team of US-licensed physicians ready to assist any clients assigned to them. Each physician is assigned a specific number of clients per day. This is to ensure each client feels understood and comfortable with their prescriber. Our medical team evaluates, answers questions, and provides a strong medical platform from which customers can feel secure in their purchases.
Processing Centers:
Once an order has been processed by the physicians, they write a script up and forward it to a VIPPS-approved processing center. Once the processing center receives the script, they fill it according to the laws and regulations they're bound by. One of two shipping methods will be selected by the CSR. This will be handled during the ordering process and ultimately filled by the processing center.
Packaging, and Compiling:
Our centers are strategically located to help reduce ship times for all customers, with most packages being delivered in a matter of 2-3 days. If a customer orders multiple products, they are compiled and ship at the same time to ensure no one is waiting for multiple packages to arrive. This is to ensure prompt delivery and little-to-no margin for error.
Shipping and Logistics:
Every order needs to make it from our processing centers, to our clients. We ship all packages through USPS and FedEx in discreet packaging to ensure client confidentiality. Both of these services utilize tracking numbers provided to our clients through their email for each tracking and arrival. Should our clients have any issues with their shipments, they don't need to waste time locating their packages. We manage any and all shipping issues on-site that may arise from weather implications and anything else that may hinder a successful delivery.
Click here to learn more about becoming a Secure Medical strategic partner