What is the average climax and orgasm time? How long does sexy usually last? When it comes to sexual performance, the truth is that there is no easy answer. Everyone is different, and what might be expected of one couple might differ vastly.
Average Orgasm and Climax Time
Generally speaking, most men will reach a climax within five to twenty minutes of starting sexual intercourse. That does not consider the time spent in various forms of foreplay, including touching, kissing, and more which add to the total time of intimacy.
Though that is the average, there will always be outliers. Some couples may find that they can sustain intercourse for an hour or more without either partner reaching orgasm.
However, almost fifty percent of men will not last two minutes during sex.
Sexual climax or orgasm is determined by biological and physiological factors that trigger the brain's neurotransmitters. Two chemicals named phenethylamine, and dopamine, create sexual arousal.
Serotonin and norepinephrine are also important in the climax process.
Treatment For Premature Ejaculation
Biological factors like health, age, and hormone levels influence sexual performance.
Premature ejaculation (PE) is a common problem affecting men of all ages. There are several treatments for premature ejaculation.
However, before seeking treatment for premature ejaculation, you should understand the symptoms. Performance anxiety is the leading cause of premature ejaculation.
Diagnosing PE can be very subjective, so you should provide your doctor with as much information as possible.
Kegel exercises and pelvic muscle strengthening, limiting foreplay, and diet changes are some home remedies for PE.
You can use one of our PE kits for fast PE treatment. The kits are designed for longevity, and most couples enjoy them. We also have a prescription combo kit.
Use a male enhancement trainer if you don't want a prescription. With the correct treatment, you can enjoy a fulfilling sex life.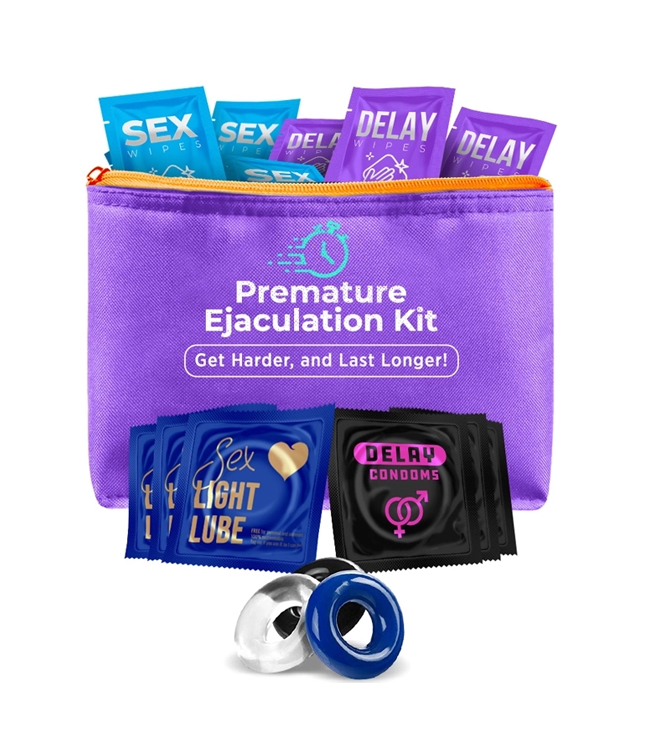 Premature Ejaculation Kit
Last Longer and Intensify Your Sexual Experience
Premature Ejaculation affects 1 in 3 men ages 18 to 70+ years old. We designed the PE kit to help men with PE last longer and perform better with their partners.